CHAS families face the terrifying reality of losing a child and this year, like the last, has been particularly hard. COVID-19 has limited the amount of experiences we can provide for families. CHAS families who cannot put time on hold or postpone events. That's why this Christmas is so important.
We continue to support families through the terrifying heartbreak of knowing their child may die young. With love and compassion, we offer highly personalised care in hospice, hospital and home. We make things possible so children have the freedom to be themselves, play outside, laugh, sparkle, smile, and have treasured moments of joy. We are there when needed most - in really tough days, at end of life, and after a child die. By supporting us this Christmas you will help make sure that no-one should face the death of their child alone.
Festive Fundraising Pack
There are so many ways to support CHAS and the families we look after this Christmas, we've got plenty of ideas in our handy fundraising pack.
Download our Festive Fundraising Pack (2.3MB, PDF)
Festive Funday
Encourage your colleagues or friends to have a
dress down day for Festive Funday. Make a donation to CHAS and get dressed in your favourite Christmas jumper or Christmas socks - or anything that is festive and fun. You can take part on any day that suits you, so don't miss out on the fun - get a date in the diary for your own Festive Funday!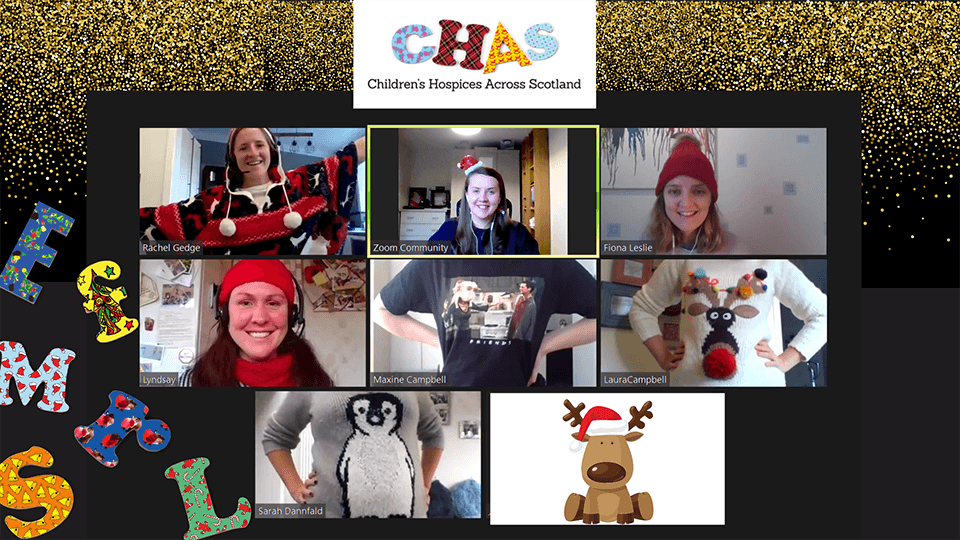 Reindeer Run
Support CHAS by taking on a Reindeer Run this Christmas, at your school, nursery or youth club.
Our Christmas fundraiser will benefit your school or club as well, as we're suggesting that you split your fundraising with us.
So let's raise money together!
Register your interest and we'll provide you with all the materials to take part.
12 Days of 5k's
Calling all runners or walkers! Take part in our Christmas challenge – run or walk 5k a day for 12 days in December. We'll send you a free CHAS Santa hat when you sign up, to wear with pride and have fun while raising funds for CHAS. This event is virtual, so take it on from wherever you are based and join our Facebook group filled with other like-minded individuals taking on the challenge! For more information check out the 12 Days of 5k's page.
We would love to hear from you and help you with your fundraising so please get in touch with our Supporter Care Team at support@chas.org.uk.